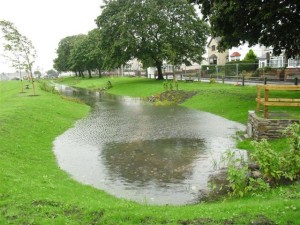 Item
Details
Address:
Queen Mary's Walk (SA15 1PG) and Regalia Terrace (SA15 1LN)
Town:
Llanelli
Council:
Carmarthenshire
Region:
South West
SuDS Type:
Planter, Swale
Client Name:
Dwr Cymru Welsh Water
Client Address:
Pentwyn Road, Nelson, Treharris CF46 6LY
Is the facility constructed?:
Yes
Construction Date:
2013-08-30
Development Type:
Additional Info:

The Queen Mary's Walk scheme is part of Dwr Cymru Welsh Water's strategy to manage surface water entering the combined sewer network across the Llanelli area. It was constructed in the summer of 2013 and consists of the below SuDS components:

* Planted swale with 150mm of perforated pipe in the playing field adjacent to Queen Mary's Walk

* Planted basin on Regalia Terrace - this forms part of the highways drainage

Due to the previous land use in the area, it was not possible to infiltrate surface water into the ground, however, this scheme reduces flows through evapotranspiration and attenuates the remaining flows during storm events.