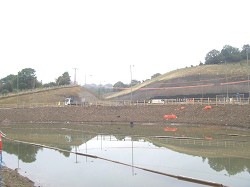 New Bypass for Sirhowy
The Sirhowy Enterprise Way (SEW) comprises a new 4.3km single carriageway bypass around Sirhowy in South Wales. The new length of highway comprises 5 new roundabouts and two river crossings. The project is currently under construction and due to be opened in Spring 2006. The scheme is a Design, Build, Finance and Operate (DBFO) funded by a private consortium (SEW Ltd). The Client are Caerphilly County Borough Council, main contractor is Costain/Laing Roads Joint Venture and lead consultant is Arup, employed by Costain for the project. The construction cost of the project is approximately £34 million.
The main purposes of the new bypass are to:
Provide access to Oakdale Business Park, with the creation of 12,000 local jobs;
Provide strategic to relief the congested Blackwood High Street;
Provide a strategic link between Oakdale Business Park and the A472 in Blackwood.
Environmental Mitigation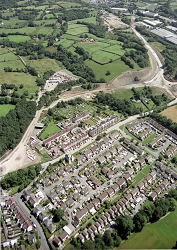 As with all major highways projects, there is the potential for serious environmental implications with the construction of this bypass. However, environmental impact has been carefully considered by the project team, and effective measures implemented to mitigate the risks. Some examples of environmental mitigation at SEW are:
Provision of attenuation pond to collect and attenuate surface water flows from the new highway;
Provision of drainage blankets to convey surface water flows from existing slopes under the carriageways to existing wetlands areas;
The use of a low noise pavement surface;
Provision of otter passes;
Tree canopy management;
Provision of bat roosting boxes.
Attenuation Pond
The attenuation pond (currently under construction – top right) has been carefully designed to collect and attenuate surface water flows from most of the new highway. Surface water flows are conveyed to the pond via a petrol interceptor, facilitating hydrocarbon removal. The pond has been designed with a permanent water level, with the additional facility to store runoff arising from the 1:100 year storm event without flooding.
An outlet structure with an orifice plate on the exit pipe throttles flows and limits final discharge to the River Sirhowy. This reduces the impact on the river helping to prevent flooding and pollution downstream.
Landscaping and planting to the attenuation pond has been carefully considered to ensure that the pond sits well within its environmental setting. The margins of the pond will be planted with aquatic vegetation, which serves a dual purpose. Firstly, the dense planting severely restricts access to the water, preventing people from swimming and coming into potential difficulty. Secondly, the planting improves the aesthetic appearance and helps integrate the feature into the landscape. Submerged vegetation, below the permanent water level, will also be provided to oxygenise the pond and prevent water from becoming stagnant and encouraging algae growth