SuDS proposed for Hospital at Mountain Ash site
A planned hospital development for the North Glamorgan NHS Trust has been assessed for SuDS suitability to manage post-development surface water flows. The 5-hectare site of the proposed hospital is on raised fill material, bounded on two sides by the River Cynon. Due to the close proximity of this main river, the site is environmentally-sensitive and discharges need to be carefully managed.
Flood Study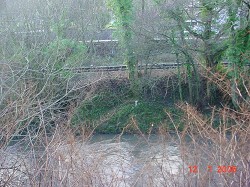 In January 2005, Arup were commissioned to undertake a flood study on the site to establish the 1:1000 year river levels. This is a requirement of 'TAN 15: Development and Flood Risk' for developments in Wales that are considered to be at risk from flooding. The 1:1000 year flood contour was established by creating a hydrological river model in HEC RAS, with river bed cross sections established by a site survey. The flood contour map can be downloaded, right, and the supporting Flooding Consequences Assessment recommended that the north west area of the site is not developed as it is within the 1:1000 year flood plain. This was used to set the current proposed hospital infrastructure footprint.
SuDS on the site
In August 2005, Arup responded to the site masterplan and geotechnical desk study by producing a SuDS Feasibility Report for the site. This report reviewed the site in its specific context to identify suitable SuDS for the site. Types of SuDS considered included:
Permeable surfaces for the two car parks;
Attenuation basins and ponds;
Infiltration devices;
Swales;
Rainwater harvesting systems.
Due to the nature of some of the fill material and the presence of an underlying aquifer, the recommended SuDS solutions largely (although not completely) excluded infiltration devices. The preferred solutions included combinations of tanked porous car parks and attenuation ponds integrated into the site landscaping to limit discharges to the Cynon. The site is relatively level and the water table is some 4m below ground levels, so storage can be maximised with these devices, without having to consider the effects of upthrust from groundwater. Two proposed schemes can be downloaded (below) and these form the core recommendations of the report