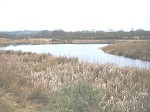 Former Tinplate Works
The former Tin Plate Works site at Felindre, Swansea is strategically located off junction 46 of the M4 motorway. The Tin Plate Works were demolished in the late 1990s, with the site being remediated for future development. The site is owned by the Welsh Development Agency (WDA) and currently plays host to the Wales GB Rally every twelve months. The planned development is multi-use, comprising a hotel, conference centre, offices and industrial units. The planning of the site has been based around the rally service park remaining at Felindre for the foreseeable future.
Attenuation Ponds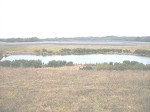 During the Tim Plate Works' demolition and remediation contracts, two attenuation ponds were provided to facilitate the future drainage of the site. Both of these ponds are in use at present, draining the remediated site and controlling discharge to the adjacent Afon Llan. They have both been designed as permanently wet features, with the capacity to store more water during rainfall. Storage capacities of the two ponds are approximately 3500m³ and 6500m³, and they have the capacity to store water from the proposed development masterplan.
Permeable Surfaces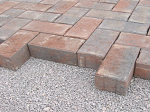 The development of the drainage strategy for the site utilises the two existing attenuation ponds and proposes the use of porous car parks (permeable surfaces) to attenuate water at source before discharging to the attenuation ponds in a controlled manner. Final discharge is to be to the Afon Llan, in line with the Environment Agency's stipulated discharge rate. Proposals for the scheme can be downloaded from 'Resources' (right).
Reed Bed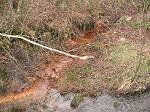 The overall strategy also includes provisions for a reed bed treatment system to treat contaminated flows arising from the north of the site (right). Here, iron ore in the ground, from the site's past industrial use, is being leached into the watercourse, causing significant discolouration. It is proposed to divert this watercourse through a reed bed system to enhance its quality prior to discharge to the larger attenuation pond. Proposals for the scheme can be downloaded from 'Resources' (right).
Flooding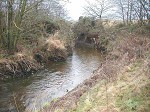 As part of the planning application for the development, a Flood Study of Afon Llan (left) had to be carried out in accordance with Technical Advice Note 15: Development and Flood Risk (TAN 15). This study allowed the 1:100 year river levels to be calculated at key cross sections and a flooding contour map to be produced. It was shown that the 1:100 year flood level does not encroach on the proposed development and the findings have been agreed with the Environment Agency Wales.