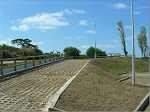 Porous Surface
The environmental enhancement scheme at Glan – yr – Afon, Kidwelly consisted of the regeneration of dangerous derelict structures into a much needed community coach and car facility. The project was constructed using sustainable solutions to overcome and solve potential environmental problems. One key feature of the scheme is its utilisation of a porous surface, called Grasscrete, which allows storm and surface water to percolate directly into the ground, thus avoiding any possible on-site flooding due to the site's location in relation to a nearby river. This also avoided the need for a discharge consent from the Environment Agency, as almost 90% of surface water run-off was eradicated as a result of the Grasscrete installation.
Sustainability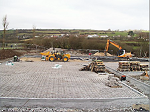 Further to this, other sustainable techniques were utilised during the demolition of the derelict structures that previously occupied the site. Over 4,000 tonnes of concrete were crushed and re-used on site as the sub-grade for the porous surface, including a soakaway located at the shallowest part of the site. This measure ensured that the project would have a minimal effect on the town's traffic movements.
Economic Prosperity
The provision of the car and coach facility at Glan-yr-Afon has unmistakably transformed what was, for many years, a severe eyesore. That has now vanished and in its place can be found a sustainable and modern car and coach facility that will undoubtedly aid in increasing economic prosperity throughout the town.